10 Places You Must Visit at Sidemen Village, Bali
Sidemen is a sub-district in Karangasem Regency that is about 35.15 km2 in size. This sub-district is split into 10 villages, namely Kertha Buana Village, Lokasari Village, Sangkan Gunung Village, Sidemen Village, Sinduwati Village, Talibeng Village, Tangkup Village, Telaga Tawang Village, Tri Eka Buana Village, and Wisma Kerta Village.
The area around Sidemen is made up of hills and has cool air. This sub-district is mostly made up of mountains, hills, farms, and green rice fields that can be seen from a distance. The Yeh Unda River runs through the middle of the Sidemen subdistrict. The water from this river is very important because it is used to water the rice fields in this area.
Sidemen is known as the place where Songket Sidemen, a type of Balinese Songket cloth, is made. Songket cloth is popular not only with people who live there and use it for religious events but also with tourists from other countries. Even more so now that Songket sidemen have been used to make other things, like bags and wallets. Sidemen is known for making Balinese Songket cloth, but it also has a number of places that visitors can visit.
1. Yeh Unda River Dam
The Yeh Unda Hulu River Dam is almost like the Kali Unda Dam in Dawan, Klungkung. Here, visitors will be presented with a very beautiful waterfall curtain. This dam is used to irrigate the rice fields in the Tabola hamlet and its surroundings. Apart from functioning as an irrigation canal, the Tukad Yeh Unda Hulu dam functions as a cool hangout place. The place is very Instagrammable, making it popular with young people who like photo-hunting.
2. Cepik
is the name of an area located in the Tabola hamlet of Sidemen village. In Cepik, tourists can see the beauty of the towering Bukit Sangkan Gunung Temple and Mount Agung. The expanse of terraced rice fields also adds to the beauty of this area. In Cepik, there is an art shop that sells Songket cloth. Even in this art shop, visitors can see the process of making sidemen Songket cloth directly. If you are tired and want to enjoy the atmosphere in Cepik, tourists can rent a villa and stay for a few days to feel the rural atmosphere of Sidemen.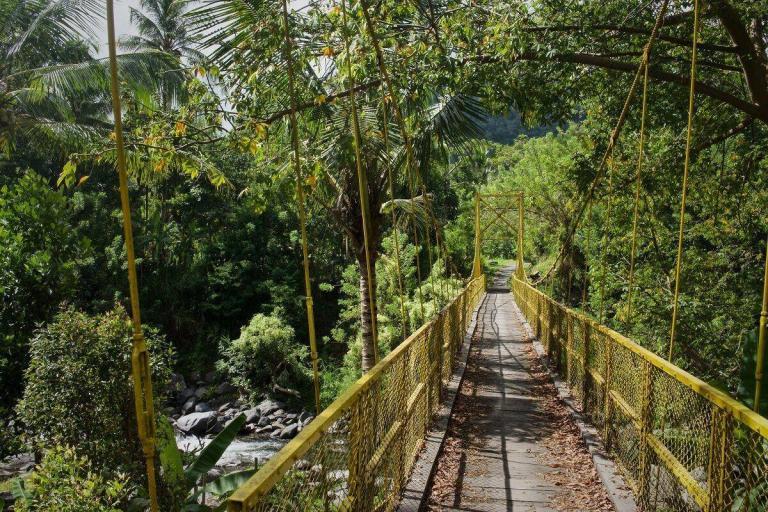 3. Yeh Unda Yellow Bridge
You don't have to go all the way to Lembongan to just take pictures with the yellow bridge in the background. In Sidemen, there is also a yellow bridge that is a very Instagrammable photo spot. Now that this bridge is becoming a hit on social media, so many young people visit it just to take pictures. This unique bridge is on the border of Banjar Dukuh and Sidemen village and spans Tukad Yeh Unda. This yellow bridge can only be passed by pedestrians and motorcycles.
4. Bodog Valley, Sidemen Village
The Bodog Valley offers the charm of a river valley, or Tukad Telaga Waja, which is often used as a rafting spot, which is very popular in Bali. Here we can see the green of the Telaga Waja River between the clear water flows. The towering Mount Agung can be seen from this place. During the trip to this valley, we will be presented with the charm of rice fields and the activities of farmers working on agricultural land.
5. Petemon Sanggem Temple
At the Petemon Temple, which is located in Sanggem Banjar, Sangkan Gunung Village, we are presented with beautiful natural views of rice fields and mountains. In contrast to Cepik, where we see the beauty of nature from below, at Pura Petemon we see natural scenery from a height or from the top of a hill. We can see the natural scenery in the eastern part of the Sidemen sub-district, with a wide expanse of rice fields bordered by the green Dwangga Mountain.
6. Sidemen Swing
Sidemen also has a tourist spot that stimulates adrenaline, namely a super high swing called the Sidemen Swing. This is a new tourist spot in Sidemen. Apart from that, there is also civet coffee agrotourism, which is very famous for its delicious taste.
7. Patal Kikian, Sidemen Village
Patal Kikian is a hill. Here visitors will be presented with a natural panorama in the form of charm, with towering Mount Agung and very beautiful rice fields. Here, there are already villas for those who want to enjoy the atmosphere at night in Sidemen.
8. Banjar Dukuh-Ogang Rice Fields
Most of the people in the Sidemen sub-district work in the agricultural sector, so in Sidemen there are many rice fields that are still worked on traditionally. Because most of the area in Sidemen is mountainous, the rice fields in Sidemen are terraced. So, this terraced rice field is a unique attraction for tourists who come to Sidemen. One of the spots to see terraced rice fields in Sidemen is Banjar Dukuh-Ogang. To see a very beautiful panorama, come during the rice planting season.
9. Iseh Village
Iseh is the name of a village located in the north of the Sidemen sub-district and directly adjacent to the Selat sub-district. Iseh is famous for its natural beauty in the form of panoramic views of its terraced rice fields and the charm of the towering Mount Agung. There you can also buy Balinese salak fruit, which is sold along the road on the Amlapura-Klungkung route.
10. Sangkan Gunung Hill Temple
Sangkan Gunung Hill Temple is located in Sangkan Gunung Village. To reach this temple, you have to climb stairs, which are about 200 steps. From the hill temple area, we can see the natural beauty of Sidemen from a height. If you look to the north, you will see a panorama of the towering Mount Agung, and if you look to the east, you can see the natural scenery and settlements of the villagers of Sidemen with Mount Dwangga as the background.