Fast Boat to Nusa Penida Island
How to get from Bali to Penida Island? We offer is the easiest place to book your fast boat tickets from Bali to Nusa Penida & Lembongan Island. Find the best fast boat to Penida island with many selection brand as recommend by Tripadvisor. Cheapest ticket price from Bali Island to Nusa Penida with reliable and trusted fast boat operators. If you have a question, don't hesitate to contact us via WhatsApp for instant answer just click button on the right bottom on this site.
Our Fast Boat Partners, Crown Fast Boat, S'gening, Dwi Manunggal, NS Fast Boat, Angel Billabong, Mola-Mola and Idola Express are the best speed boat operators in the region. Their main routes are from Bali to Nusa Penida.
Crown Fast Cruise Penida
Daily fast boat transfer to Nusa Penida island via Sanur - Bali with the cheaper ticket price. Let's explore the beautiful Blue Paradise island at the south-east of main Bali island without breaking your bank credit. Visit the instragamable places such us Kelingking Beach, Broken Beach, Crystal Bay and join some water activities snorkeling and diving.
S'gening Fast Boat Penida
New brand fast boat operated by Penidas local people, S'gening fast boat operate out of Sanur beach in south Bali (near Denpasar) and offer 2 daily crossings from Bali to Nusa Penida and back. Free hotel pickup is included from selected area such us Sanur, Kuta, Ubud Central, Jimbaran, Nusa Dua and Legian.
NS Fast Boat Penida Island
Get yours fast cruise trip to Nusa Penida less wet and easy access by the private jetty at Kodang Port, Pamelisan, Sesetan Bali. Latest fast boat service to Penida Island with new vessel geared with 6 Suzuki DF250 V-6 Four Stroke Outboard Motors and built by fully Aluminum materials rated under International Maritime that can carry up to 120 passengers with life jacket and insurance.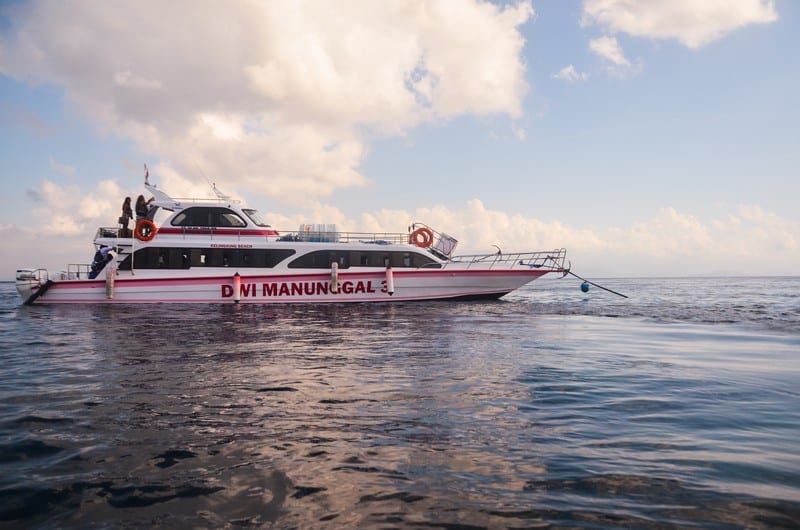 Dwi Manunggal Fast Boat
Dwi Manunggal Fast Boat is a marine transportation mode that serves 4 time crossing of Sanur Beach to Nusa Penida Island per day with 3 Vessel, as known as Dwi Manunggal Fast Boat 1 with 45 passenger capacity plus life jackets, Dwi Manunggal Fast Boat 2 with 40 passenger capacity plus life jackets and Dwi Manunggal Fast Boat 3 with 100 passenger capacity plus TV, air conditioning, toilets, 100 life jackets and lifeboats.